Codice prodotto: 408FR
Sideboard with classic showcase 1 + 1 glass door + 1 drawer 408FR
Security policy
All our payments are traceable by credit card, Paypal or bank transfer
Delivery policy
Shipping throughout Europe with delivery within 30-40 days
Order by email or WhatsApp
Contact us via whatsapp or email to ask for information or place an order
Made in Italy
All our items are produced entirely in Italy
Sideboard with classic showcase
 
Codice prodotto: 408FR
Sideboard with classic showcase 1 + 1 glass door + 1 drawer 408FR
Security policy
All our payments are traceable by credit card, Paypal or bank transfer
Delivery policy
Shipping throughout Europe with delivery within 30-40 days
Order by email or WhatsApp
Contact us via whatsapp or email to ask for information or place an order
Made in Italy
All our items are produced entirely in Italy
Product Details
Data sheet
Width

51

Height

182

Profondita

42
Description
Sideboard with classic showcase
This sideboard with classic showcase is the ideal piece of furniture to enhance your decorative objects, but at the same time add an elegant and valuable supplement by making the best use of the space at your disposal. The sideboard with classic showcase is composed of 1 glass door and 1 closed door and with drawer. The doors of the sideboard with classic display cabinet are lockable, and the side walls are carved with grooves running along the sides. On the central band of the sideboard with classic showcase there is 1 drawer made according to an ancient and artisanal method called "dovetail" joint, with the bottom and sides are in solid fir wood.
Like all the accessories of the Modigliani collection, the pantry is characterized by a champlevé carving, by the friezes applied under the frame and by the typical saber-shaped legs, which thus make it a unique element of its kind to furnish your home. with a refined and refined style.
See Modigliani classic furniture collection
Customize our sideboard with classic showcase
Details such as upholstery or other custom features can be specified at the time of purchase.
See the available wood finishes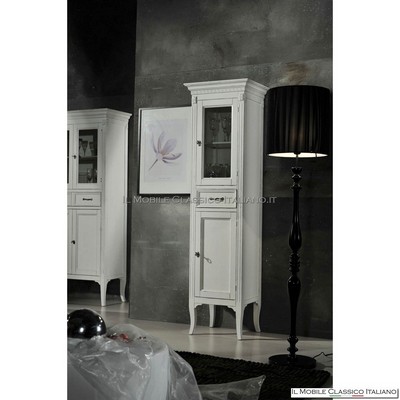 Technical details of the De Chirico and Modigliani collection
Structure: solid toulipier or beech, legs minimum thickness 44mm, crosspieces minimum thickness 24mm
Frames: solid toulipier
Drawer fronts: 23mm solid toulipier or 18mm tanganika blockboard
Drawer sides: solid 14mm spruce with dovetail joint
Drawer bottom: diamond-coated on 14 mm solid fir panel
Drawer guides: on solid beech beams
Backs: 5mm plywood or 8mm tanganika plywood
Shelves: 18mm tanganica blockboard, solid toulipier or 8mm glass
Door frame: solid toulipier wood, minimum thickness 27mm
Door panel: Tanganyika veneer
Sides and bottoms: 14mm panel in tanganika veneer
Top : solid toulipier panel veneered with cherry essence and rosewood trim
Showcase top: Tanganyika veneered panel
Delivery times for our sideboard with classic showcase
We usually have in stock some of the various possible combinations of our items for sale, if your choice does not fall on one of these, delivery times are less than 30 days from payment.
See all our classic sideboards and classic sideboards
Save
8 other products in the same category: