Codice prodotto: 618
Shaped entrance console in oak briar with shelf. WORKING OF FINE WOODS
Security policy
All our payments are traceable by credit card, Paypal or bank transfer
Delivery policy
Shipping throughout Europe with delivery within 30-40 days
Order by email or WhatsApp
Contact us via whatsapp or email to ask for information or place an order
Made in Italy
All our items are produced entirely in Italy
Entrance console in deep ground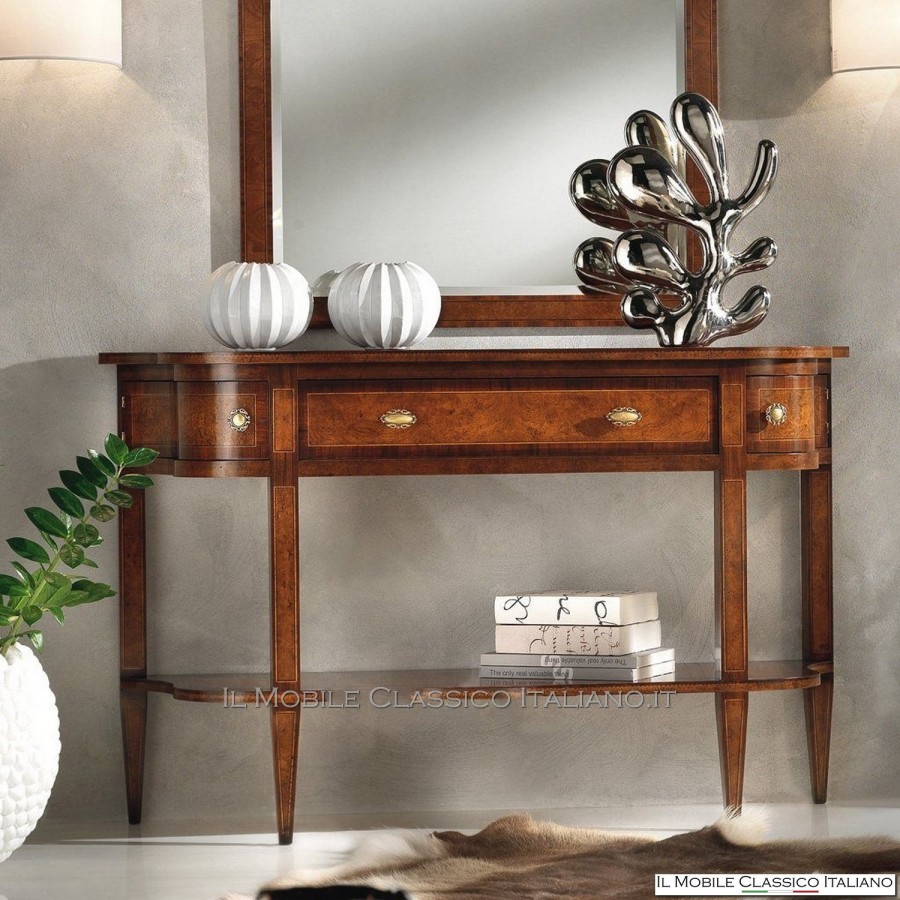  
Codice prodotto: 618
Shaped entrance console in oak briar with shelf. WORKING OF FINE WOODS
Security policy
All our payments are traceable by credit card, Paypal or bank transfer
Delivery policy
Shipping throughout Europe with delivery within 30-40 days
Order by email or WhatsApp
Contact us via whatsapp or email to ask for information or place an order
Made in Italy
All our items are produced entirely in Italy
Product Details
Data sheet
Width

141

Height

86

Profondita

43
Description
Entrance console
This entrance console is a stylish piece of furniture that allows you to furnish the rooms of any home with taste and elegance, in particular it is used to place in the entrance, these are unique works made with ancient techniques that transmit the mastery of the past to our days.
The entrance console , shaped in oak briar and shelf. This piece of furniture is entirely built with precious woods of different origins, and decorated on various sides with inlays .
The entrance console is characterized by simple shapes, it is able to perfectly combine elegance and functionality in a single solution, as it can be used as a console table simply to place your most expensive objects.
This hall console , like all the elements of the Dolce casa collection, is a collection of classic furniture to harmoniously complete your furniture and create a warm and welcoming atmosphere. The main feature of these classic furniture is the complexity of construction, in fact many of these furniture are rounded, shaped or carved. They have sides made with panels curved in one or two directions. Inlays are applied on the surfaces, made of rare and precious essences such as national walnut, walnut feather, bois de rose, rosewood, maple, olive, bois de violette, zebrano or ash burls, oak, walnut, myrtle, Persian walnut, olive tree. The processing of these classic furniture requires great skill and experience.
Entrance console data sheet :
Sides, top, bottom: blockboard / plywood panel / solid poplar / wood particles veneered in the visible parts with precious woods.
Frames, legs and shoulders: solid toulipier / cherry / beech / poplar wood, possibly veneered in the visible parts with precious woods.
Backs and inside of the drawers: solid fir wood or plywood.
Inlays: Italian walnut, European cherry, Tanganyika, walnut feather, bois de rose, rosewood, maple, olive, bois de violette, white ash burl, oak burl, California walnut burl, myrtle briar and Persian walnut .
Customize your entrance console
Some of our models are shown in photos with finishes not present in the sample because they were made specifically for that model.
However, it is possible to request it by selecting the finish as shown in the photo at the time of purchase.
8 other products in the same category:
Regular price

€726.83

-20%

Price

€581.46